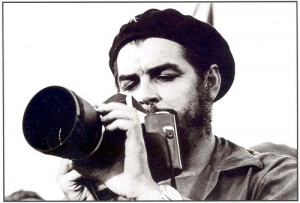 I've referred to this old post recently, so I thought I would resurrect it to a position in the RM archives as well.
After all, it's a post on becoming a revolutionary, which certainly is a relevant concept…
What is it about Latin America that tugs so hard on the heart strings?
In my own experience I can testify that there is some mysterious quality about this region that makes it irresistibly addicting.
Yes…I'm a Latin America junkie!
I've traveled around it a bit, having spent time in Nicaragua, Panama, Colombia and, of course, Costa Rica.
But I know that there's so much more to see and experience.
One of my favorite movies is The Motorcycle Diaries, which chronicles the travels of a young Ernesto "Che" Guevara and Alberto Granado as they embark on a journey of self-discovery, traveling from Argentina to Venezuela on an old beat up motorcycle they named, La Poderosa (or the almighty one).
I love to travel and when I do, like Guevara and Granado, I like to get down and dirty and find out what life is all about in the places I visit. Maybe that's one reason I came here in 2001 and never left.
Towards the end of the movie, while Guevara and Granado are spending time as volunteers in the San Pablo leper colony on the banks of the Amazon in Peru, Guevara makes a farewell speech in which he speaks of a united Latin America, a speech which forecasts the later events of his life.
Of course, it's well known that Guevara went on to join Fidel Castro's revolution in Cuba and was ultimately captured and executed in Bolivia under the direction of the CIA.
Guevara was a Marxist, hated by the U.S. for trying to spread the evil of communism throughout Latin America. But Guevara was more than anything else, an idealist.
He believed in armed revolution as the solution to social injustice.
[I believe he was wrong on that point, by the way.]
Throughout history Latin America has spawned its dictators and its revolutionaries. There just seems to be something about this place that ignites a higher than normal level of passion…and that can be infectious.
The passion of Latin America is evident in its wars and revolutions, legendary outlaws like Pablo Escobar, music, poetry and literature from the likes of Pablo Neruda and Gabriel Garcia Marquez and in many other ways.
It is an alluring and exotic place, filled with beautiful people, danger, romance and adventure.
I have a few good reasons to leave this place and go "home."
But the problem is that Latin America has taken hold of me. It's like being hopelessly in love and once that happens to you, you just can't leave.
It's not that easy.
If you do you are going to pay a heavy price, maybe for the rest of your life.
The price of always longing for what was.
The price of always wondering what could have been.
Sure I can leave Latin America, but that longing will remain in my heart. And if I tried I'm sure that before long I'd return.
I believe there are others who know exactly what I'm talking about.
There's a strange and mysterious spell that's cast on anyone who comes here and falls in love with this place. It changes you.
Material pursuit isn't what drives you anymore.
You become an idealist.
You become a revolutionary.
You become like Che Guevara.